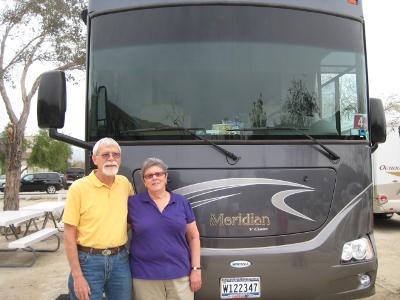 So who are we? Well, we're Tryna and Al Morton (if you didn't get why we call our website saltontheroad, maybe now you have a clue). We will celebrate our 40th anniversary in August 2006 and believe it or not, we are still good friends as well as soulmates.

Tryna graduated from Central Connecticut State College in 1966 with a BS in Elementary Education. She got her MS in Remedial Reading in 1972 from California State College at Fullerton. During her career as a teacher, Tryna taught every grade 1-8 except 6th. Her favorite grade to teach was 3rd. Tryna retired from teaching on June 22, 2001 and is now enjoying a life of 12 month vacations. In her spare time, she likes to take photos, quilt, do crossword puzzles, read, create in stained glass, travel and play around on the computer.

Al graduated from California State College in Fullerton in 1972 with a BS in Electrical Engineering and MSEE in 1974. He worked as an Application Engineer for several companies, the last being Texas Instrument - he retired in September, 2001. In his spare time, Al likes to read, carve (he has carved some great caricatures), learn the guitar, do tai chi, travel and play around on the computer.

We're totally enjoying our all our trips and hope that you will continue to travel vicariously with us via saltontheroad.